Sunday, September 16th, 2007
---
2:54 pm
- My cupcakes...
let me show you them: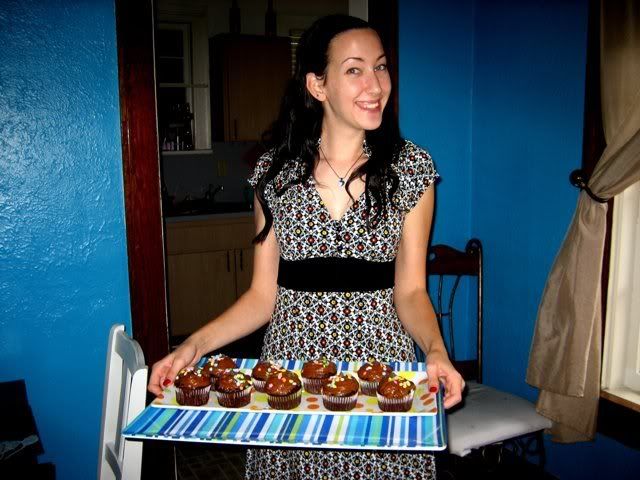 I made these awesome chocolate vegan cupcakes for my mom's birthday Saturday. :) They turned out so well! The icing was really rich and delicious and is now chillin' in a bowl in the fridge for me to eat at gluttonous leisure.

You know you want to hit that. If so, here is the recipe: CUPCAKES!

xotaya

current mood:
accomplished
(2 welts | please daddy?)
Thursday, June 7th, 2007
---
8:38 am
- Happy Birthday!
Wednesday, February 14th, 2007
---
5:19 pm
- Happy Valentine's Day!
Happy Valentine's Day, everyone! :)

Work surprised me with heart shaped donuts with pink sprinkles and Evan suprised me with a pink rose and fudge delivered to my desk. :) So sweet! I was the only one passing out Valentines, though, which was rather sad. Hello Kitty for everyone!

zotaya

current mood:
loved
Sunday, December 3rd, 2006
---
3:45 pm
- Happy birthday!
Tuesday, November 7th, 2006
---
11:53 am
- Vote!
Tuesday, July 11th, 2006
---
6:33 pm
- I'm back!
Hello again!

I've returned from Mexico with tanned arms, army ant bites, bruises, and photos. :)
I'm still trying to acclimate to being back in the US, so I don't feel up to posting a full account of my archaeological fun.

However, I did start a Flickr page for some of my recent photos, mostly just the more striking of the pictures from the sets.

PinkSqueak .

I missed y'all!

xotaya

current mood:
creative
(4 welts | please daddy?)